Are you tired of hiring the wrong team members?
Let's create your best team!
Whether problems lie in work ethic, personality clashes, or they just don't "fit" your practice, hiring the wrong employee hurts your bottom line. Building and empowering the right team saves you money and the headache of training the wrong person. It also enriches your practice. My dental practice consulting will show you how to build the right team. I'll show you how to empower your team to create wealth for you and your practice.
Are your team members bored with their profession? Burnt out?
Everyone needs a little inspiration in their life.
I'll help your team fall in love with their career.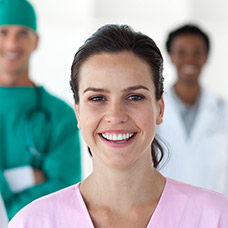 Build Your Best Team
You're better than 90%!
90%. That's the highest success rate most personality testing groups promise when utilizing their services for potential new hires. But the reality is, most success rates are in the eighties. This leaves much room for error when it comes to hiring the right person. You need someone who will best represent you and your practice, and be enjoyable to work with.
Personality testing using one of my "rockstars of dentistry" will grant you amazing success rates in personality matching/testing—a whopping 98% to be exact. I will help you build your perfectly matched team. You'll never worry about spending money training the wrong person again.
Inspire your hard-working team:
My passion and enthusiasm for creating healthy patients is contagious!
I train hygienists with the mentality that they can save lives. This knowledge is hugely powerful and motivating for both hygienists and your patients.
Healthier patients = more referrals = team member bonuses. I'll help you create a win-win-win program. Everyone reaps the rewards of patient growth and health!
I will share many success stories with your team and give them the resources to create their own!
What topics will you cover for my team?
Motivation — be inspiring and be inspired
Growing the hygiene department
Increasing production with assisted hygiene — double or triple production per year
Laser dentistry — hands-on courses and implementation into the practice
Integrating oral cancer screenings into the practice
How to properly care for cosmetic work
Implementing bacterial testing: understanding the results and growing your hygiene department utilizing those results
Oral-systemic link: understanding personal and family medical histories, pursuing physician communication, and thus offering the highest level of comprehensive care to the patient
What topics do you cover with dentists? Do you only focus on hygiene?
My strategies are for application practice-wide. They include:
Implementing the right dental tools and technology
Creating and empowering the right team
Building a network of referring medical doctors
Transforming your practice into a total health center
You deserve a successful practice. A large part of that equation is having a great team. Using my proven methods, I'll show you how to take your team from tired and underutilized to "Wow."  Don't let your practice's success lie dormant  — let's create results for you, today.
You deserve a successful practice.
I'll take your team from tired and underutilized to "Wow!"