Impactful change for your dental practice.
Customized topics for your practice.
As the highest-producing dental hygienist in the country, I've had the pleasure of speaking at many well-recognized events nationwide. During my speaking engagements, it's impossible to miss my true passion: improving lives through preventative oral care. I love fueling change that positively impacts dental practices big and small to improve patients' lives.
I look forward to sharing my passion and expertise with your practice!
Bring change to your daily practice life.
Request a speaking engagement for your team today.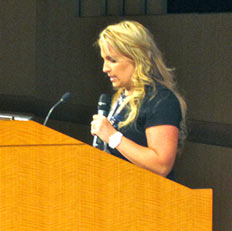 Inspirational talks backed by two decades of expertise.
Let my knowledge enhance your success.
I am available for speaking engagements for groups of any size, whether it's you and five team members or a room of 500 or more.
Similar to my dental practice consulting, topics can be customized to your specific interests, and skills you'd like to improve upon. My inspiration and expertise lies in the following areas:
Re-structuring the hygiene department
Assisted hygiene
Oral cancer screenings
Health and wellness
Laser dentistry
Bacterial testing
Understanding health history and family history
Building a physician referral network to offer integrated healthcare solutions
Marketing your practice
Creating a total health center
I have spoken on an international level for dental groups including the American Academy of Cosmetic Dentistry, HDIQ, Chicago Dental Society, and many more. In 2013, I had the honor of speaking at the 2013 American Dental Association Annual Session. Part of my inspiration comes from renewing the drive of my fellow dental professionals in the audience. Dentistry is and can be exciting and empowering. 
What have I been up to lately?
Six-time speaker at AACD
Speaker at the 2013 American Dental Association Annual Session
2012-2013 Meeting Chair, AAOSH
Chicago Dental Society – Midwinter Meeting
Arizona Dental Association
My hygiene department is growing because
we're getting people healthy. You can too!